Upper West Side Top-Tier Water Damage Mitigation
4/3/2023 (Permalink)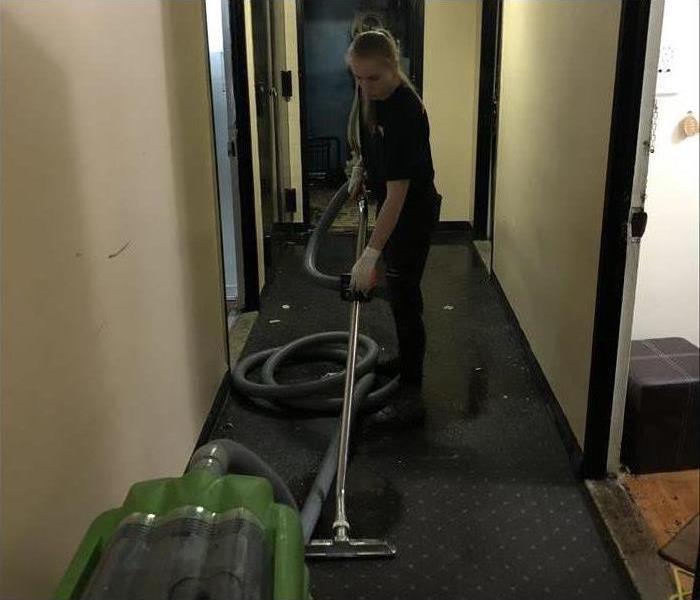 SERVPRO WRT water and damage restoration technicians utilize advanced equipment to mitigate damage in Upper West Side buildings--both large and small.
SERVPRO Provides Rapid Water Damage Cleanup and Restoration for Upper West Side Premises
Water damage occurrences on the Upper West Side disrupt the luxurious lifestyle of residents and interrupt the operations of high-end businesses serving the community. The provision of emergency services to these sumptuous properties faces various complications from the multiple uses of the elegant brownstone and other townhouses, condominiums, and apartments that soar four, five, and even dozens of stories over Manhattan, often overlooking Central Park or the Hudson River.
Advanced training and broadly based certification in industry best practices prepare SERVPRO water remediation crews for the rigors of water damage mitigation in Upper West Side mid and high-rise buildings. Fully stocked service vehicles arrive swiftly accompanied by experienced project manager-led crews familiar with the obstacles presented during the provision of urban water damage removal services and the understandably stringent expectations of property owners.
What Constitutes Common Upper West Side Water Damage Repair Scenarios?
Elegant buildings possessing pedigrees extending back to the Upper West Side building boom of 1885 through the early 1930s can suffer from aging plumbing and previously inadequately completed water damage repairs. The occupant density, whether in historic brownstones or mid-20th or 21st-century skyscrapers, contributes to the risk of significant water damage exposure migration throughout a building housing many units. Owners who update and maintain their properties can still suffer from water damaging incursions spreading through structural components from neighboring residents and businesses traced to:
Burst pipes
Ceiling leaks
Basement flooding cleanup (affecting storage areas and building-wide utility systems)
Sewage cleanup
How Does SERVPRO Approach and Adapt Water Damage Restoration Protocols to Meet Upper West Side Challenges?
Expert assessment precedes rapid provision of emergency services, water damage technicians poised to secure properties and commence water removal services immediately after the project manager gives the nod. Unique circumstances affecting the exclusive boutiques and upscale residences in the neighborhood include:
Water Damage to irreplaceable, historic building materials and fixtures
Harm to artworks, one-of-a-kind retail inventory, antique furnishings, and more
Owner preference for the highest caliber response, including conforming to an array of special requests
Difficulties posed by the distance needing navigation from the water damage to restoration equipment
The SERVPRO team is prepared to reach and restore commercial and residential water damage stories above the city streets and in confined areas. Research-proven strategies remediate everything affected by moisture from building materials to rare artifacts. Our inventory of water pumps, truck-mounted, and portable water extractors, and structural drying equipment delivers outstanding outcomes, facilitated by reliable and skilled Institute of Inspection, Cleaning and Restoration Certification (IICRC)-trained technicians. An off-site production facility offers specialized evaluation, mitigation, and remediation of water-damaged contents, including access to additional and innovative resources if indicated.
Residential and commercial owners desiring fast and expert water damage restoration services to make losses "Like it never even happened," ensure successful outcomes by calling SERVPRO of Upper West Side at (347) 252-9440.